Bees using scavenged plastic to build hives
See on Scoop.it – Synergetic Management: Business Innovation & Improvement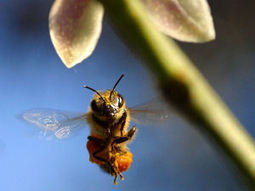 Bees using scavenged plastic to build hives
Synergetic Management's insight:
LOL!
While so many people are so worried about "going organic", Mother Nature is simply adapting to the world around her!
Now, organic is great (for some things — I admit to being skeptical on the need for "organic" shampoo); I personally really like organic apples. Yum! :-d
But what is fascinating here is that these bees are TRYING SOMETHING *RADICALLY* DIFFERENT.
Something usually attributed only to humans —
these bees are being creative!!!
Whether or not it will work in the long run is a great question, but they are trying!
When was the last time
YOU

tried something that was (intelligently) RADICALLY different? 😉
See on www.scienceagogo.com
Share because you care ...